Current Positions
Party MC
Townsville Tenpin is looking for Sparky, Fun,
Amazing people to join our team, and be the
"Life of our parties !"
We're currently looking for a Party MC to join our team and help us provide an amazing event for all our guests.
In this role, you will oversee and deliver the Fun-Ness at group functions and events.
You will be responsible for keeping everyone smiling and laughing at every event with your infectious smile, amazing MC Skills, Great On-Mic skills, and Creative antics.
To succeed in this role, you must have an energetic and outgoing personality and be able to get along with and communicate with all age groups.
Your aim is to:
"Make every guest remember their fun event
at Townsville Tenpin."
This sounds like you?
Or you know someone who would love the Job?
Well what are you doing...
Tell us why we should give you a Try-Out.!
Yep... TRY-OUT-- it's easy and fun!
Show us how you get the party going...
Easiest / Best Job Interview ever!
Message us now on Facebook,
Or email manager@townsvilletenpin.com.au
Do It Now!
We are always looking for Junior party hosts...
See Below.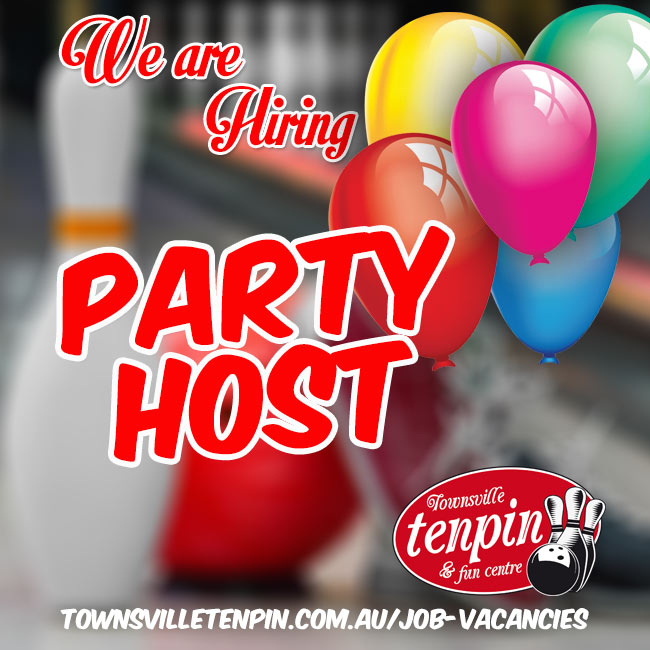 Party Hosts
Supervise childrens Parties, & make the experience great for everyone.
We are always looking for motivated and happy "People" people.
15Yrs or Above need only apply
Assertive, Fun & Organised
Must be available weekends and school holidays
Available to Work Day or Night Shifts.
Must be great with children.
Must feel comfortable wearing costume if required
Hospitality Industry Experience always welcomed.
Please apply via the form on this page.
Address your application to:
"Head of Awesome Parties"
Townsville Tenpin & Fun Centre
And tell us why you can make a kids party fun, and well run.
Always Considering new applicants.
---
---